Check out what

OUR CLIENTS

say:
Listen to what participants in Roger's Age of Engage keynote and half day workshops have to say about his content, delivery, and impact on their personal and professional lives.
Roger Haskett is motivational speaker based in Vancouver, BC. Roger has enjoyed a rich and diverse career as an award-winning writer, director, actor, teacher, speaker and entrepreneur. Roger and his company, Engagement Unlimited, focus on helping clients maximize engagement at meetings and events by weaving together innovative approaches to entertainment, education, and team-building.
PCMA Hospitality Helping Hands
Sherryl Parsons
President, Rare Affairs
Event Management
"It's always a pleasure to work with Roger Haskett and the team at Engagement Unlimited. From the start of any project we work on, Roger takes the time to listen and understand my client's organization, purpose, culture and event goals.
"He's able to provide excellent ideas around engagement and delivery of key messaging during the design phase of the event. Recently Roger helped my team with a 3 day virtual event with 300 attendees. Like with in person conferences and events, his energy was contagious and he kept the conversations flowing from start to finish. Between sessions he injected fun with dance and stretch breaks to get attendees moving.
"I was skeptical in my belief about how much energy could be achieved in a virtual environment and I was blown away by the end result.
"The coaching and assistance he offered each presenter in those moments when he came into the virtual green room and helped us count them down to live alleviated anxiety and uncertainty. Presenters expressed how grateful they were for his ability to know when to offer a positive cue or jump in to assist with something.
"His ability to drive the Q&A portion following each presenter ensured the conversation never ended early, only on time each and every time.
"Having a professional speaker as an emcee ensured that he was able to weave the close of one day into the opening of another creating continuity and bringing so many meaningful and thought provoking conversations to the forefront.
"Roger was really the glue that held all the pieces of this virtual event together in a fun, meaningful and engaging way. He didn't miss a beat."
"Hi Roger,
Thank you so much for your time and energy today – it was a great session!
As you predicted, we could have used a lot more time together. I would love to have you back and dedicate a session on the Power of Positivity. I will chat with the team and circle back on timing.
Thanks again!
Emilio Vallinio, Gilead Pharmaceuticals, Cell Therapy
"Hi Roger, It was a pleasure to virtually meet you today. Your content, message and energy was a great addition to our cross-functional team meeting and I know a lot of people benefitted from your insight!
Hopefully our team will see you again in the future!
Until then, stay safe,
Dani Laidlaw, Marketing Coordinator, Cell Therapy, Gilead Pharmaceuticals
"Can't thank you enough for our virtual event. It was such a memorable experience! It truly inspired me.
Michael, you are so great to work with, and as usual, Roger was simply fantastic.
You both are a complete team.
Thanks again for an engaging virtual event."
Debbie Preissl, Business Development, Nicola Wealth
"It was a pleasure to work with Engagement Unlimited and you Roger! Now that they see what a fantastic and engaging emcee you were that we will have you back in the future! "
Jess Poon, Events and Logistics Coordinator, Canadian Cardiovascular Congress
"Thanks for all of your Haskettness in our virtual leadership sessions. Survey Says - Virtual Roger almost as good as the real thing. First timer attending sessions today says "that guy is awesome - so much energy - so funny".
Darrell Jaggers CIO & Chief Transformation Officer at First West Credit Union
Ray Franklin
You bring such great energy and insight to all your presentations.
"Amen, Roger! Thank you for sharing this important and heartfelt message! Empathy towards self and others is so vital right now as we continue to navigate our way through this unfamiliar terrain with zero visibility or compass. Your positivity as always, is such a gift in these challenging times...thank you!
Lynn Chitty, Chapter Administrator at Meeting Professionals International
"The feedback we are getting is stellar!! Thank you Roger!!"
Shelagh McIntyre, Senior Advisor, Leadership and Learning, First West Credit Union
"Hey Roger, I just wanted to send you a quick note to say awesome job emceeing the summit! I saw you last year and was curious how the virtual experience would go, but your energy, passion and insight were amazing. At one point I thought to myself, "the confidence of a man dancing on a virtual conference, where he can't hear or see anyone to feed off, of has to be through the roof". Awesome job!"
Joshua Juhlke
Jonathan Buchwald
President & CEO at PR1ME
"Congrats Roger! So amazing to see your transformation over the years, all built on a foundation of caring, creativity and a lot of comedy! It's been a pleasure seeing you rise to our collective challenges and continuously innovate. Well done and enjoy sharing your success with friends and family."
"Thank you for your leadership in positively gluing this Summit together. Cheers Roger. Thank you. I am grateful for you."
Jonathon Dugdale
Supplier of the Year Award from MPI BC Chapter
"Over the years Roger has been a huge supporter of the MPI BC Chapter. He has worked with us on countless events and initiatives. From top notch Emceeing to the most creative and successful engagement opportunities, Roger's devotion to our Industry and to our Chapter is inarguable. Roger brings an undeniable level of professionalism to any and every event he touches. As one member Stephen Melville, wrote in his nomination… "The weekly positive video's he posts on Youtube & LinkedIn are helping the industry get through this pandemic like a boss! "
"I have really missed your enthusiasm at our events and now is the perfect time to bring some of that Roger joy to our members!"
Jennifer Winter, Rebeluxcreative
Stephen Melville, Sales manager, Sun Peaks Resorts
I've always been inspired by you since I first met you all those years ago. And I am a fan of providing recognition and I'm grateful to have the opportunity to share with the Association your ability to engage and make people feel amazing.
It's a talent and you should be proud of your talents and what it means to others.
Congratulations my Emcee hero and hope to see your friendly face at a live event again in the not to distant future.
"Roger, it is so great to watch your videos on Linkedin! To be honest, doing Projectworld events and listening to you speak were what inspired me to continue with this idea. You showed me this topic needs to be shared with the world more than ever. ESP. now. I have always been a mental health advocate and decided to step out and share my passions too."
Erin Poredos, Event Manager
"Thank you Roger for all you have done to keep our SITE Canada and Global members engaged and motivated to move forward during these difficult days!"
Gabby Spanton, Site Canada President
"Roger Haskett, from one SITE member to another: you are amazing! I always love your energetic personality with sometimes quirky views that make me think or have an AHA moment. Yes, I agree, people should hire you! #emcee"
Cokkie Eaker, Next Generation Incentives
"Hi Roger. Great session (Pressure Cooker Confidence) with Advocis CLC, just now. Would love to stay in touch."
Arun Channan Strategic Business Partner
Profiles International
"I wanted to say how much I love your "Talking To People in a Pandemic" series.
You are so wonderful on stage and know just how to adjust to being on an intimate screen. I am endlessly impressed."
Heather Sharpe. President, Sherpa Group Events
"I really enjoyed how you and Roger conducted the session (Virtual Engagement Strategies) as a demonstration of what you were teaching lol! I also think the action-oriented way in which you engage virtual audiences (striking poses and using hand gestures to communicate) is so great!"
Amy Casebolt
"Hi Roger,
I wanted to thank you for jumping on our weekly virtual line-up last Friday.
Your openness to "be there" is so appreciated and I know was impactful for all of us in the meeting. I always have positive take-always when interacting with you :blush:
Keep your "fight" alive and hope you have a playful and enjoyable weekend ahead!
Thanks a ton,"
Sean Lynch, President NHS Global Events
Risha Walden, Walden Interiors: "Your energy is great. You are doing fantastic. You are on your mission. Don't stop."
"Thank you Roger for sharing these helpful suggestions. Thank you for sharing the reality of what this situation means for many of us and how we can help ourselves and our teams, families and friends find a way to get to the other side."
Kristine Ford, CIP 1st degree connection
Director, Retail Sales at Westland Insurance Group Ltd.
Sample Survey results from one of Roger's Talks:
 The session was FANTASTIC! Very engaging, fun and definitely taking things back to work and
personal life.
 AMAZING! Needs to be a keynote. Needs to be invited back EVERY year to share his message.
ABSOLUTELY EXCELLENT! *a must see
 Amazing!!!
 Great topic & very informative!!
 This presenter, Roger Haskett, is fantastic, and this session was excellent and very useful.
 GREAT
 Great energy!
 Roger was engaging, fun and shared so much great information! Thank you.
 Roger was wonderful!! Engaging & informative. Made it easy to take away a lot for my program.
 Roger was amazing and gave us a mountain of ideas to take back
 He is FANTASTIC! Moving both emotionally and education – great take home
 Excellent speaker!
 GREAT!
 Session was Fantastic
 Inspiring! Funny. Thank you.
 Excellent – would like to see Roger again at IncentiveWorks!
 It was fun!
 He is absolutely an inspiration. It's time to have fun!
 EXCELLENT!
 Love the positivity aspect – definitely something to discuss further!
 Awesome. Great session for the AM!
 Everything was awesome
 Having an excellent & positive speaker makes a huge difference!
 Fantastic! Energized Presentation. Great Content!
 So Fabulous!
 Had a great time.
 Fantastic!
 Roger was amazing! Energetic, animated, engaging, great content
 Best session I have attended since coming to IncentiveWorks from 2013! He should be a keynote
speaker!
 Excellent session!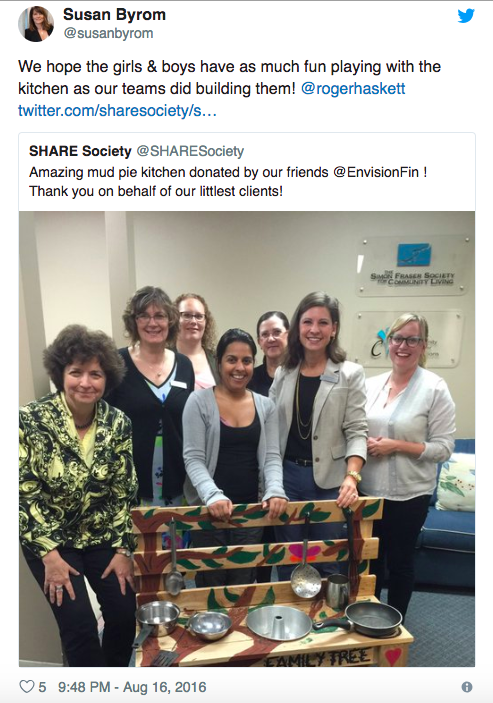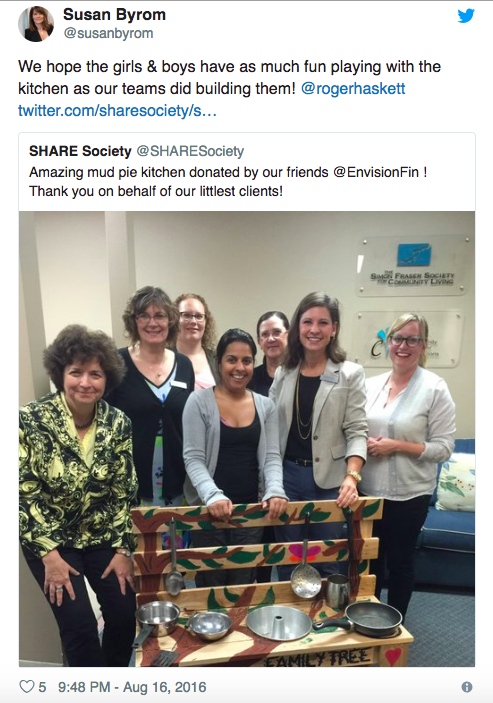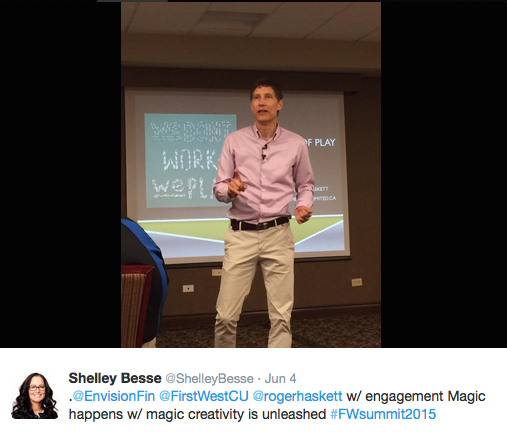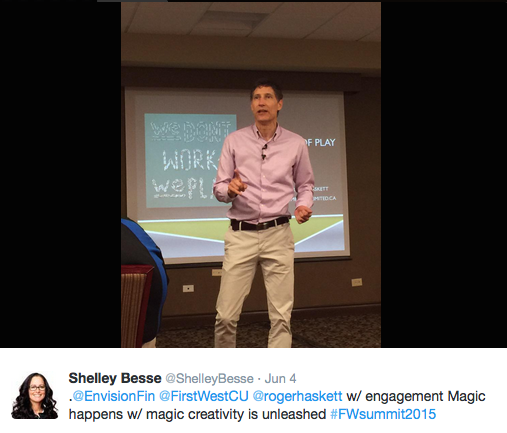 "Incredibly engaging presentation! Thoughts, recommendations, very relevant and applicable to my business. I's
highly recommend including him in future conferences.
"He actually demonstrated to us this subject. We played! It was fun! I learned some great stuff! Thank you!!!
"Amazing! Great speaker and got us up and playing at 7am on a Monday! You don't know me but that's almost
impossible Awesome!
"Helpful with attitude especially.
"Excellent session! Speaker fully engaged the room. Super fun!!
"Bring him back! Very energizing, engaging, impressionable. Easy leave behinds to remember and utilize going
forward.
"He is so engaging it's impossible to leave the session without learning something useful to take into your organization.
"One of the best sessions I've attended.
"I have no words except to say INCREDIBLE. Encountered positive networking for the first time. Thank you!"
"Here to Help You Engage: Digital + Live + Hybrid"
Call or email to discuss how Engagement Unlimited can energize, electrify, inspire and entertain your next meeting, event or?